In order to start promoting your apps with Appnext, please take the following steps:


Step 1: Create an account
Go to the Appnext website, and press the "SIGN UP" button.


Step 2: Receive your confirmation email
Receive your confirmation email and press on the account activation link.


Step 3: Add a New App
Click the "Add New App" button in the drop-down menu under the "Apps" tab.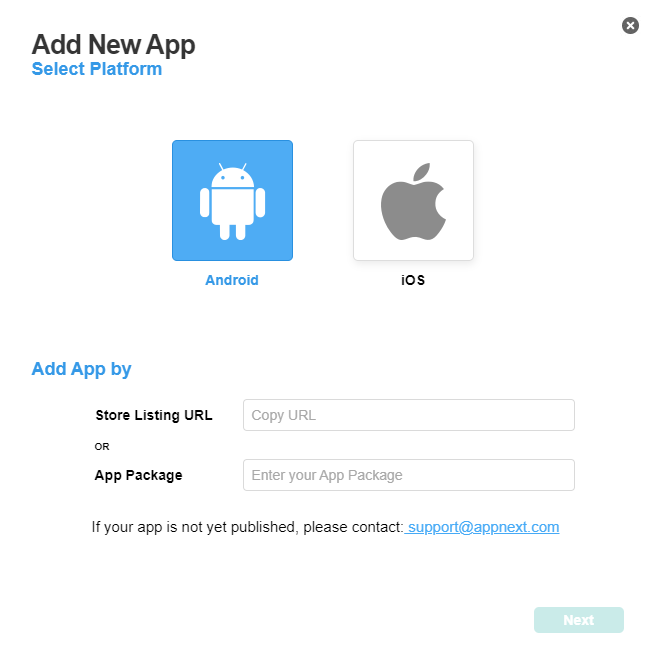 Step 4: Receive a PlacementID
After opening a new app, you will receive a placementid which is a character token to use inside your app for a specific placement. You will use this placementid in the integration. If you have more than one ad placement in your app, it is recommended to have a placementid for each placement so that each placement can be tracked separately. You can click the "Create Placement" button in the App page to create another placementid.


Step 5: Choose an integration tool and integrate it
Appnext supports a wide variety of monetization tools, from API, to Native Ads and Interstitial SDKs. Access the Integration Tools page, and choose the ones that best answer your needs. Integrate the tools to your app or website, following the respectful integration guides that you can find on the Integration Tools page.


Step 6: Activate the integration
Activate the integrated tools and start recommending the Appnext-served apps to your mobile users.
During the first 48 hours your placements enter the learning stage. It allows Appnext optimization algorithm to find the best campaign match, and offer your users only the apps they are likely to love and install.


Please contact Appnext support team, should you have any questions or need assistance.