Procedure and Payment Terms & Conditions
To add funds to your Appnext account please perform the following steps:
Log in to your Appnext Account
Select "Manage Payments" from the drop-down menu, under your Account Name, at the top-right of the page
At the moment, Appnext accepts PayPal, Credit Card, or Wire Transfers. For prepayment options please contact support@appnext.com or your account manager.
*In order to verify your payment method, we will make a test charge of $5 which will be credited to your account.
Please note that you will be liable to automate/recurring transactions, either when your balance reaches a predetermined amount ($200 by default) or at the end of the month, whichever comes first.
PayPal: Click the "Connect with PayPal" button, and follow the instructions on the PayPal integration page.
Credit Card: Click the "Setup" button and insert your credit card details.
- 5% processing fees will be included in every PayPal or Credit Card transaction.
Wire Transfer: Please follow the detailed instruction on the Appnext "Manage Payments" page.
- The advertiser alone shall bear any and all wire transfer fees relating to their payment.
​​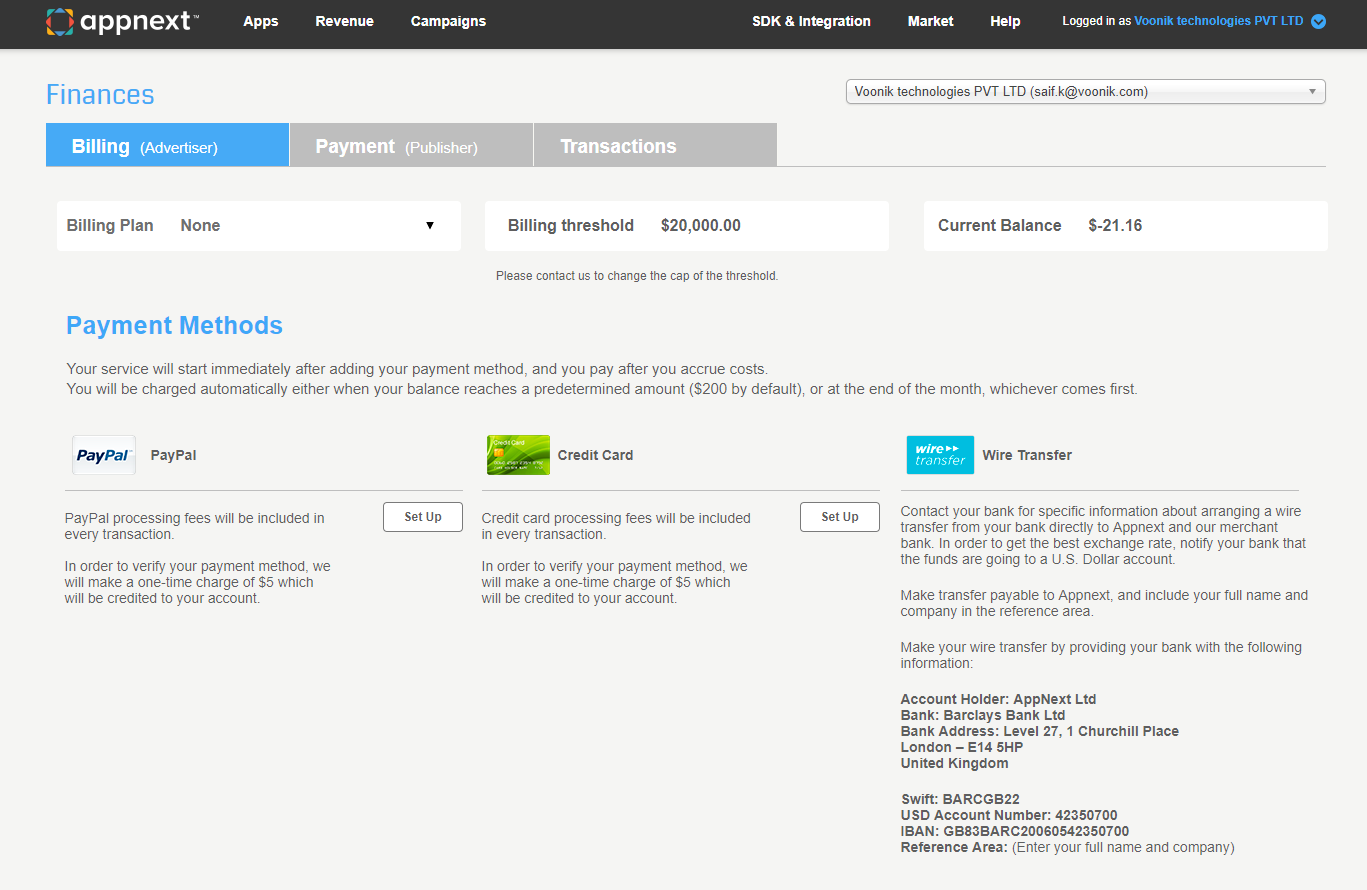 *In the case of a failed charge on your Credit Card, you run the risk of having your account suspended. Please ensure the Credit Card connected to Paypal is always connected and current.
**Users agree to Payment Terms & Conditions when they register on the Appnext Platform.
******Also before going live and traffic is enabled an IO (template will be shared from Support Team) needs to be signed due to Financial regulations as also the Customer Registration Form to be filled.