Proper tracking implementation is mandatory for any CPI campaign. At Appnext, you can choose our partners' tracking solutions which include; AppsFlyer, Kochava, Adjust, Tune, Mobile App Tracking, and others.
1. Tracking implementation starts in the 2nd stage of the campaign set-up process, where you can choose a 3rd party solution. If you haven't yet done so, you can easily edit your tracking preference, by clicking the "Edit Campaign" button on the Campaign Management Layer.


2. Paste the tracking link provided by your tracking company.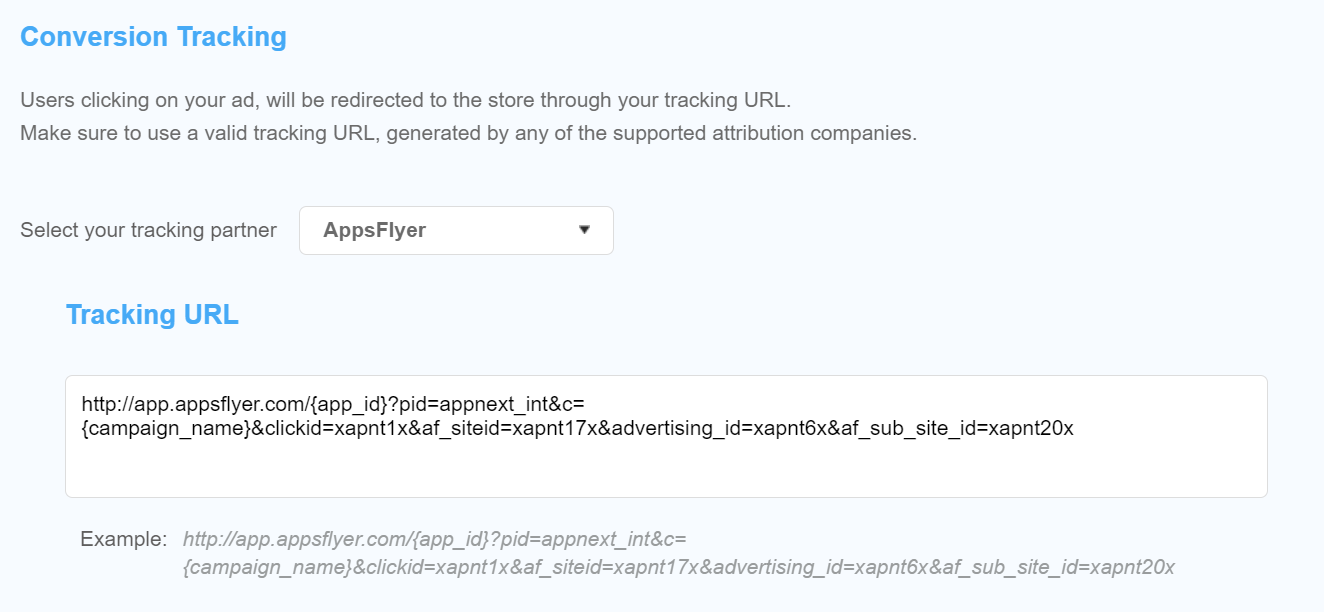 3. Add the Click_id, Publisher_id, and advertising_id to the following Appnext Macros:
xapnt1x

serves as the Appnext Clickid
xapnt17x

serves as the Appnext publisher identifier
xapnt6x

serves as the GAID or IDFA identifier
4. Add the impression tracking URL.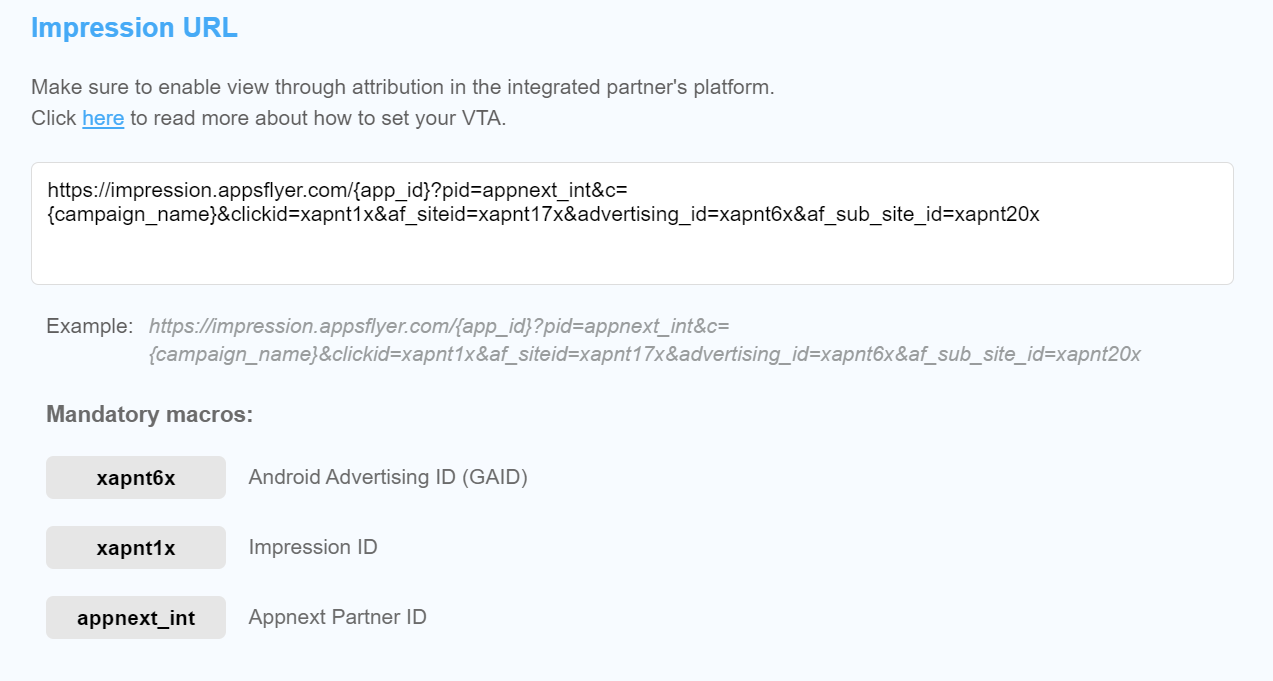 5. Click the save button in order to save the changes.



Testing The Tracking
The tracking solution is now implemented, but not yet verified.
Access the

"Manage Campaigns"

tab, and click

"Set Tracking",

under the campaign Actions bar.


The easiest way to test the proper tracking implementation is to send a test link to your mobile device via

e-mail or SMS.
To ensure the app install is tracked correctly, please follow a simple testing checklist:



Perform a test installation, from the same operating system and GEO as your target for the specific campaign.
Make sure the app has not been installed on the device before.
Launch the app upon installation to finish the test.

Click the

"Check"

button. If the install was tracked, the status will be changed to

"Active".

If it hasn't happened, please wait a bit longer, and then repeat the action. If the status still appears as

"Not Active"

please contact The Appnext Support Team.
The campaign is successfully tested once the tracking status is changed to "Active".
Activating The Campaign
In order to activate an app promotion campaign, you may also need to add funds to your Appnext account if you haven't done so already.
You can make your campaign live, in three short steps:
Access the

"Manage Campaigns"

tab.
Choose the campaign you would want to activate, from the campaign list.
Change the campaign status from

"Paused"

to

"Active".
Your advertising campaign is now live. Please contact support@appnext.com, or your account manager, should you have any questions or need help with campaign optimization.